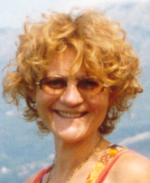 My name is Anne Nicolas-Whitney, although online I'm often called brodanni. I am French and live near Grenoble in the French Alpes.
My adventure in embroidery started with a class with Francine LeClercq. I discovered traditional embroidery; a universe of huge variety with a thousand and one techniques.
Then when exploring the web one day, I became spell-bound by the work of SharonB. That was the big day, the technique called crazy quilt gave me the possibility to play with all types of embroidery techniques and materials.
The first time my crazy quilt work was exposed, people asked me if I sold kits. So I decided that I should start making kits.
As I have so much pleasure doing embroidery, I wanted to go deeper in the mastering of some techniques. English embroidery pleases me a lot. That is the reason why I go as soon as I can to the Royal School of Needlework in the UK. All the classes are taught by highly professional embroiderers.
I had the chance to live close to a wonderful shop, Déco-Montgolfier, which organized embroidery courses. Upon seeing my work, Martine Sanchez, the owner, asked if I would be interested in giving courses.
This work gives me so much pleasure, and it is only possible because of the support and guidance of Francine LeClercq, Martine Sanchez and Gaëlle Collomb.
Of course none of this would have seen the light of day without Rob, my sponsor, webmaster, assistant (artistic, administrative and commercial) and occasional psychological support!
If you want to contact me (by email, phone or post) click here, I would love to hear from you.
Best wishes,
Anne.
For inspiration, you can have a look at my blog and my flickr photo album.